PRESENTATION OF THE COAT OF ARMS
The emblem represents a condensed history that illustrates the past and present, and directs a look to the future.
The fleur de lys evokes the origin of Louis Pinard, who left France to settle in Quebec. The sheaves of wheat represent its many descendants who have worked and lived off the land and the gear wheel symbolizes those who have committed themselves firmly in the industry. The chevron and the motto illustrate the vitality and dynamism of the present generation which it may be a productive future.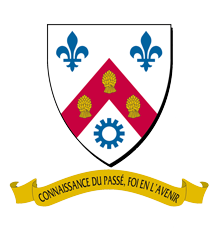 Description
Shield or shield triangular silver chevron of gules charged with three gold sheaves of wheat, docked at right and left of a fleur de lys azure, in base a gear wheel azure.
The shield is the shape of the crest of Aunis and the city of La Rochelle, where was born and where Louis Pinard moved to the new continent.
Emblem of the state sovereignty of France since the year one thousand, the fleur de lys appears on its coat of arms, that of La Rochelle and also on that of Quebec. Its three petals connected illustrate the qualities of faith, wisdom and chivalry. The wheat sheaves express intimacy, attachment to the land fertile and generous. They point out the many generations of farmers.
The gear wheel, the symbol of industrialized era, for the present descendants, shines like so many families in the same central core: the Beauchemin, Lauzier, Lauzière, Florent, Fleurent, Pinard, Raîche, etc.
The chevron of gules point to the future. The color red signifies the desire to serve his country, the courage and determination ..
The azure is the symbol of loyalty and perseverance, and gold, a symbol of intelligence, prestige, virtue and greatness.
Silver means the clarity, simplicity and wisdom.
Note: The coat of arms of our association is the brainchild of Jacques Desmarais. The motto is Isabelle Pinard Desmarais. The design is Jean Tétreault. Me George N. Parent, of Quebec, a specialist in heraldic art added a touch guided by experience ...